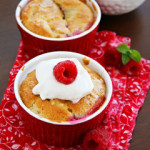 Mini Raspberry Cobblers
Instructions
Preheat oven to 350 degrees F. Line 4 ramekin with raspberries (about 9 each) and place on a lined baking sheet.
In a medium bowl, mix butter, 2 tbsps. sugar, flour, milk, baking powder, salt and vanilla with a wooden spoon. Spoon a heaping tablespoon of batter of fruit and spread evenly.
Mix remaining 2 tbsps. sugar and 1/4 cup warm water. Pour evenly over each ramekin.
Bake for 28 - 30 minutes, until topping is golden brown and fruit is bubbling.
Serve warm with whipped cream or vanilla ice-cream.
Allergens
Allergens
Courtesy of Georgia, The Comfort of Cooking
Add to Favourites