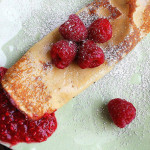 Vanilla Crepes with Warm Raspberry Compote
Instructions
Vanilla Crepes:
In a large bowl, mix together the milk, egg yolk and vanilla. Sift together the flour, sugar and salt into the bowl. Add the melted butter and stir until well blended.
Heat a round, smooth 9-inch pan over medium heat until hot. Coat lightly with cooking spray. Pour 1/3 cup of batter into the pan, lift up the pan from the heat and tip to spread the batter to the edges; return to heat. When bubbles form on the top and the edges are dry, flip over with a wide spatula and cool until lightly browned on the other side and edges are golden. Repeat with remaining batter.
Place crepe on a plate, fill with 1/4 cup raspberry compote, dust with powdered sugar (optional), and serve immediately.
Raspberry Compote
In a saucepan, combine the berries, sugar, and lemon juice. Over medium heat, bring to a simmer, stirring frequently until the sugar dissolves and the berries give up their juices.
Continue simmering, stirring occasionally, until the juices thicken to a syrupy consistency, about 5 minutes. Remove from the heat. Serve warm with crepes, ice cream, breakfast oatmeal, or cool to room temperature, cover and refrigerate.
Allergens
a piece of advise from the author of this delicious recipe.. Don't expect your first one to turn out perfectly.
by: The Comfort of Cooking
Crepes adapted from: AllRecipes.com
Raspberry compote adapted from: Wolfgang Puck
Add to Favourites