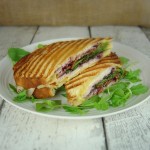 Raspberry-Chipotle Turkey Melt
Instructions
Melt Jam in a small saucepan on low heat. Ad finely chopped chipotle pepper and vinegar; set aside.
Layer turkey, cheese, bacon and arugula inside two bread slices, placing raspberry chipotle sauce and arugula in the middle of the ingredients.
Grill on a non-stick griddle or Panini pan until golden and crispy on both sides.
Sweet & Spicy, this cheesy melt is made easy with the simple raspberry chipotle sauce and the peppery crunch of arugula on crispy grilled bread.
from ~A Palatable Pastime~
Add to Favourites