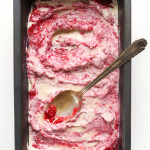 Yield: 9 1/2 Cup Services
Prep Time: 3h 00 min
Serving: 9 Servings
Print
Nutrition facts

(per portion)
Nutrition facts
(per portion)
Calories: 328
Carbohydrate Content: 24.6 g
Fat Content: 25.5 g
Fiber Content: 2.5 g
Saturated Fat Content: 11.8 g
Serving Size: 1/2 cup
Sodium Content: 27 mg
Sugar Content: 15 g
Raspberry Ripple Coconut Ice Cream
Instructions
The night before, be sure to soak your cashews and place your ice cream maker bowl in the freezer to chill.
To a high speed blender add soaked, drained cashews, coconut milk, oil, maple syrup, vanilla, sea salt and 1 tbsp. arrowroot starch. Blend until creamy and smooth, scraping down sides as needed.
Taste and adjust sweetness as needed, adding more maple syrup or cane sugar if desired - I found 1/4 cup maple syrup and 1/4 cup cane sugar to be perfect.
Transfer to a mixing bowl and cover. For best results, chill overnight, or for at least 5 - 6 hours. If in a rush, 1-1/2 to 2 hours in the freezer is sufficient.
Once your base is chilled, prepare raspberries by adding to a bowl and mashing with sweetener. Set aside.
Assemble your chilled ice cream maker and pour in the chilled ice cream batter. Churn until creamy and thick and resembled soft serve - about 40 - 45 minutes.
In the last 30 seconds of churning, add in 1/2 of the raspberries and let churn until slightly swirled. Turn off machine.
Transfer ice cream to a freezer-safe container and smooth flat with a spoon, swirling in the remaining amount of raspberries. Tap on the counter to help settle and remove any air bubbles.
Cover securely and freeze 4 - 5 hours or until firm. Before scooping, set out for 10 - 15 minutes to soften. Keeps in the freezer for up to a 1 week, though best within the first few days.
Allergens
Allergens
Amazing Raspberry Ripple Coconut Ice Cream that's creamy, sweet, tart and SO delicious! Just 8 ingredients and minimal effort to create this summery, swoon-worthy treat by the Minimalist Baker.
Add to Favourites