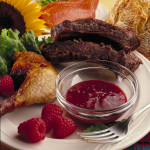 Raspberry & Peppercorn Sauce
Serve this tasty sauce over chicken, fish or your choice of any other protein.
Instructions
Heat saucepan with olive oil on medium heat, add shallot and cook for 3 minutes.
Add sugar and peppercorns, stir for 10 minutes, add vinegar, red wine and raspberries, reduce for 3 minutes.
Add demi-glaze or Knorr Swiss Mix, cook slowly for 3 more minutes, remove from heat and add cold butter.
Grill or BBQ chicken breasts.
Cook Asparagus at dente.
Arrange chicken, fish or ribs on a plate.
Pour sauce over chicken.
Garnish with Rosemary and serve.
Serve with Asparagus tips or any vegetable of choice.
Add to Favourites