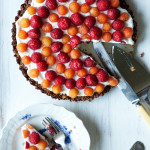 Raspberry-Yogurt Tart
Instructions
Heat your oven to 400 F. Put the pecans in a food processor and pulse until you have a c course, crumbly meal, making sure to stop before you blend it into a nut butter! Transfer the pecans to a bowl and blend in the honey - I use my fingers - then rub the chunks of butting in with your fingers. Press this mixture into a 9-inch round tart pan - it will fill the bottom but not really come up the sides - and put the pan on top of a rimmed baking sheet to catch any oil that make leak out as it bakes.
Bake in the oven for about 12 minutes, until browned and toasty. Remove from the oven and allow to cool completely.
Then, spread the yogurt into the crust and top with berries. You can serve immediately or keep the tart, covered, in the fridge for a few days, though the crust will become more fragile as it sits because it will absorb the moisture from the yogurt.  But it still tastes great!
Allergens
Allergens
You've gone berry picking with the kids and they want a nice, light treat; you want to make sure that its healthy and not too sweet, here is the perfect recipe from Emily of Five and Spice
Add to Favourites