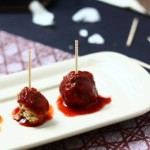 Yield: 20
Prep Time: 20 minutes
Cook Time: 30 minutes
Serving: For Family
Print
Raspberry Chipotle Turkey Meatballs
Instructions
Preheat oven to 400 degrees. Line a baking sheet with parchment paper and a drizzle of olive oil. Either chop or in a food processor, finely chop the shallot and garlic. Add to the ground turkey with the spices and mix together.
Form into 1-inch size balls, line on baking sheet and drizzle with remaining olive oil.
Bake for 15 minutes, flip and then bake for another 10 - 15 minutes.
Meanwhile - prepare the sauce.
Add all the ingredients to a saucepan. Bring to a simmer over medium low heat.
Using a handheld emulsifier puree into a smooth sauce. (if  you don't have a handheld emulsifier you can just pour the sauce into a blender and puree - be careful its hot.)
Bring sauce to a simmer again, then turn off heat and add cooked meatballs.
Serve with a side of sauce and toothpicks.
Enjoy!
Great to serve at that big time sporting event your husband talked you into hosting.
by: lafig – The Talking Kitchen
Add to Favourites