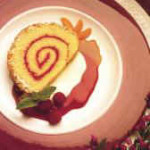 BC Raspberry Jam Roll
Instructions
Preheat oven to 400 degrees F.
Lightly grease and line a 13 x 9" jelly roll pan or cookie sheet with parchment paper.
In a medium bowl beat the egg yolks, sugar and vanilla extra until light and fluffy.
Beat in the flour.
In a separate bowl, beat the egg whites until stiff, but not dry.
Fold carefully into flour mixture, then into prepared pan and spread evenly.
Bake for 15 - 20 minutes, until lightly browned and firm.
Lay a clean cloth on a flat surface and sprinkle with the sugar crystals.
Turn the cake out of the pan onto the cloth, and peel away the parchment paper.
Spread BC Raspberry Jam or Jelly over the cake and roll it up quickly, starting at the short end.
Transfer the rolled cake to a serving dish, seam downward and ice.
Icing:
Beat egg white, add icing sugar and beat until mixture is smooth.
Beat in enough juice to give the icing a spreadable consistency.
Spread over cooled jam roll
Decorate with chopped nuts before icing sets.
Cut and serve.
Allergens
Add to Favourites