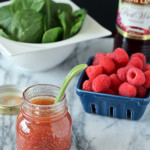 Raspberry Vinegar
Instructions
In a large bowl, cover raspberries with vinegar, with a cloth.  Store in a cool, dark place for 1 week.
Carefully strain through a jelly bag.  http://www.wikihow.com/Make-a-Jelly-Bag
Press fruit lightly.
In a medium saucepan, cook juice and sugar over low heat for 15 minutes.  Strain through a jelly bag.
Wash 4 - 1/2 pint bottles in hot soapy water; rinse well.
Place fresh herbs in prepared bottles, pour flavoured vinegar into bottles.
Cap the bottles and keep refrigerated.
Raspberry vinegar will last up to 4 months.
Add to Favourites