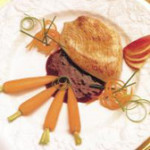 Grilled Turkey with BC Raspberry Red Wine Sauce
Instructions
In frying pan, sauté shallots for 2 minutes.  Add apples and continue cooking until apples are just soft.  Remove the apples and set them aside.
Pour in red wine and slowly add the raspberries.  Reduce heat by half.
When sauce is thickening, re-add the apples.
In a large skillet, heat oil over medium heat, brown steaks on both sides, about 4-5 minutes.  Sprinkle with sea salt and pepper and remove from the pan.
Arrange steaks on individual plates.
Spoon over the Raspberry Red Wine Sauce and Serve.
Add to Favourites