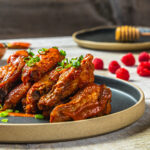 BC Raspberry Chipotle Wings
Hot and richly fruity, this sauce also make a great glaze for salmon, sausages or meatballs.  Or pour over goat cheese or warmed Brie and serve with crackers.
Source: Canadian Living Magazine, by the Canadian Living Test Kitchen.
Instructions
Preheat oven to 400 F.
Remove tips from chicken wings and reserve for stock if desired, separate wings at joint.
In a small saucepan, heat oil over medium heat, fry onion, stirring occasionally, until softened, about 5 minutes.
Add BC Raspberries, vinegar, molasses,  honey, chipotle and half each of sea salt & pepper; bring to a boil.  Reduce heat and simmer, uncovered and stirring often, until reduced by half, about 12 minutes. Let cool slightly.
Scape into a blender; puree Pressing on solids, strain through fine mesh sieve into a large bowl. Set aside. (Make-ahead: Refrigerate in airtight container for up to 2 days.)
Toss wings with remaining sea salt and pepper.  Place on foil-lined rimmed baking sheet, place in oven and bake until crisp and juices run clear when chicken is pierced, about 30 minutes.
Add to raspberry mixture in bowl, toss to coat.  Return to oven, bake, turning once, for an additional 5 minutes. Serve with remaining sauce for dipping.
Add to Favourites