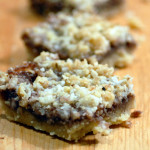 BC Raspberry Egg Free Streusel Bars
Vegan Recipe from elana's pantry
Instructions
Pulse ingredients together in food processor until dough forms a ball.
Press dough into an 8 x 8 baking dish.
Bake at 250 degrees for 12 minutes.
Pulse oil, almond flour, coconut sugar and sea salt together in food processor until creamy.
Briefly pulse in walnuts and coconut, so they are left course, not pulverized.
Set streusel aside.
Spread BC Raspberry jam over warm crust.
Sprinkle streusel topping over raspberry jam.
Bake at 350 degrees for 15 minutes
Cool for 10 minutes, then refrigerate for 2 hours to set up.
Slice and enjoy!
Allergens
Allergens
Add to Favourites