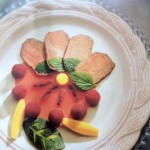 Veal with Sun-Dried Tomatoes & BC Raspberry Vinaigrette
Instructions
Rub veal roast with 2 tbsps. of extra virgin olive oil.
Roast in a preheated 400 degree F oven for 25 minutes. Let cool to room temperature. Chill, if desired. Slice veal as thin as possible and arrange slices on individual serving plates. Sprinkle tomato strips over meat.
Whisk together olive oil, raspberry vinegar and concentrate. Drizzle over veal. Add fresh mint leaves and fresh raspberries to decorate each plate.
As a optional side dish, clean and slice a yellow squash and zucchini into 2" x 1/2" pieces. Saute 1 clove of fresh garlic in 2 tbsps. of butter for 1 minute. Add the zucchini and squash and continue to sauté for 3 to 4 minutes until tender. Add salt and pepper to taste.
Serve immediately.
from Raspberry Elegance folder for British Columbia Raspberry Growers Association
Add to Favourites