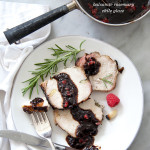 Yield: 10 - 12 Servings
Prep Time: 20 minutes
Cook Time: 1h 30 min
Serving: Serves 10 - 12
Print
Pork Loin Roast with Balsamic & Raspberry Chili Glaze
The Balsamic Rosemary Chile Glaze adds a touch of sweetness and a hit of spice, the perfect topper for the loin. Watch the glaze carefully during the initial boil, balsamic vinegar in the reduction phase can burn quickly if it's feeling abandoned.
Instructions
Set pork loin aside. In a large bowl or 6 quart measuring cup combine remaining ingredients and stir to combine.
Add pork loin and brine to a large Ziplock freezer bag and seal. Place bag in a large mixing bowl to catch any overflow if freezer bag opens or leaks during refrigeration period. Refrigerate for at least 12 to 24 hours.
Remove pork from refrigerator for about an hour and bring to room temperature.  Prepare grill to high heat. Remove pork from brine, but do not discard garlic, rosemary or parsley sprigs. Pat pork roast with paper towel to remove excess moisture.
With a sharp knife make 1/2" deep incisions in the port about every 2 inches. Stuff garlic pieces and herbs into incisions on both sides of roast. Rub roast with olive oil and ground pepper.
Sear pork on grill, 2 - 3 minutes on all sides until browned with grill marks. If using a gas grill, turn on side of grill to low bringing the internal temperature of the grill to about 300 degrees. Move roast to the non-heat side, with fat cap side of pork on top. Close lid and cook for 45 minutes to an hour or until internal temperature of roast is 145 degrees. Turn roast every 20 minutes or so to ensure even browning.
During last half hour of cooking, start Balsamic & Raspberry Chili Glaze (directions below).
Remove roast from grill, cover with tin foil and allow to rest for 10 minutes. Slice in thin slices, top with glaze and savor the juiciness.
Glaze:
In a saucepan bring balsamic vinegar, brown sugar, orange juice, rosemary and chili past to a low boil, reduce temperature and simmer for 20 - 30 minutes until sauce thickens (you can tell if its thick enough if glaze covers back of a spoon) and reduces by half. Add raspberries and cook for another 5 - 10 minutes until raspberries become soft and break down when mashed with a spoon.
Add butter and stir to thicken. Remove from heat and serve over slices of pork.
Courtesy of Heidi at foodiecrush
Add to Favourites