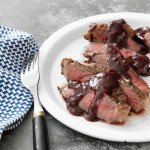 Rib Eye with Raspberry Sauce
Instructions
In a medium pot over medium-high heat, bring wine to a boil. Lower heat and simmer until reduced by half, about 25 minutes. Add raspberries, ketchup, jam, balsamic vinegar, paprika, and cinnamon; simmer, stirring, for 20 minutes. Season with salt and pepper; set aside.
Heat grill to medium-high. Season steaks with salt and pepper. For medium-rare, grill for 6 minutes per side. Brush steaks with sauce, flip, and grill for 2 minutes. Repeat on other side.
Serve sliced, drizzled with raspberry sauce.
Courtesy of Country Living by Chef Elizabeth Karmel of Hill Country Barbecue in New York City uses summer raspberries in a savory preparation – as a sauce for grilled steak.
Add to Favourites