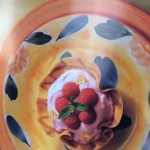 Raspberry Mousse in Chocolate-Striped Tulip Cups
Instructions
Chocolate-Striped Tulip Cups
In a medium bowl, combine the sugar, flour, orange zest, whole eggs, egg whites and vanilla. Beat with a wooden spoon until well mixed. Stir in the butter and 1 tbsp. of water; the batter will be thin.
Set aside 1/4 cup of the batter and mix it with 1 tbsp. of melted chocolate. This mixture will be used for the stripes.
Preheat oven to 425 F. Butter a large cookie sheet. Drop 4 separate tbsps. of the batter onto the sheet. Using the back of a spoon, spread into 4" circles, spaced about 1" apart. Using a turkey baster, add chocolate strips lengthwise and crosswise over the 4" circles.
Bake in the bottom third of the oven until the cookies have a golden-brown border about 1" wide, 6 - 8 minutes. Meanwhile, cut 4 pieces of aluminium foil, each 4" square, and set 5 narrow glasses or jars bottom-side up on the work surface.
Remove the cookies from the oven. Working quickly, scrape a cookie from the sheet with a wide spatula and invert it over the jar. Cover with a square of foil to protect your hands and mold the soft hot cookie into a tulip shape. Repeat with the remaining cookies. As soon as they are set, remove the shaped tulip cups from the molds and set aside.
Repeat steps 2 through 4 until all the batter is used.
Raspberry Mousse
In medium saucepan bring the raspberry juice to a boil. Add the raspberries, cinnamon, allspice and cloves. Return to a boil, reduce the heat to moderate and simmer, stirring frequently, until the mixture thickens lightly, about 5 minutes. Remove from heat and let cool. Transfer to a covered container and refrigerate overnight.
In a large bowl, beat the heavy cream with the confectioners' sugar until soft peaks form. Fold in 1 cup of the raspberry mixture.
Spoon the raspberry mousse into the Chocolate-Striped Tulip Cups.
Garnish with fresh raspberries and a few strips of Candied Orange Zest
Allergens
Allergens
From Elegance folder of British Columbia Raspberries Growers Association – called Raspberry Delight
Add to Favourites