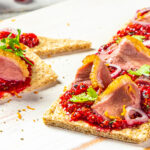 Smoked Duck on black pepper flatbread, BC Raspberry compote appetizer
you can substitute any chosen cuts of meat
Instructions
Flatbread
Mix all ingredients together on low speed in a electric miser fitted with a dough hook, and then on high speed for 3 more minutes.
Let the dough rest for 1 hours and then roll out as thin as possible. Brush with a little melted butter and sprinkle with fresh ground black pepper.
Bake the entire slab in a 400 degree F oven until light golden brown. Let cool and then break into uniform size pieces.
Compote:
Saute the shallot in the olive oil over medium heat until translucent. Ad the sugar and heat until melted.
Add the coriander seed, grated orange zest and raspberries.
Cook briefly until the raspberries have broken down, but are not completely soft. Add the cilantro and let cool.
Assembly:
On the flatbread place a small amount of the raspberry compote. Using a slice of the duck breast, make a rose shape and place on the compote. Garnish with a little frisee lettuce.
Allergens
Allergens
Courtesy of – Chartwell's Restaurant: Fabrice Rossman, Executive Chef, Four Season Hotel Vancouver
Add to Favourites