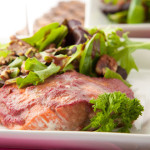 Raspberry Ginger Baked Salmon
Raspberry and ginger fill this salmon with delicious flavour and is paired nicely with a raspberry balsamic greens salad. A simple, easy, and light meal to end the summer.
Instructions
Preheat oven to 400 degrees.
Blend water, raspberries, ginger, lemon, and medjool date in your blender until ridiculously smooth.
Pour contents into a small saucepan and bring to a boil over medium-high heat. Reduce to a simmer, cover, and cook for about 40 minutes, stirring occasionally to prevent burning. Remove from heat and set aside.
Place fillets in a well worked cast iron pan, or on a parchment paper lines baking sheet. Season fillets with salt and pepper and top with 1/3 raspberry mixture. Bake for 4 - 5 minutes.
Remove from oven, turn the oven to a low broil, pour on a second coat of the berry mixture (retaining a 1/3) and return the salmon to the broiler for an additional 4 minutes.
Meanwhile, combine olive oil, balsamic vinegar, herbamare and remaining raspberry mixture in a small bowl. Place in a serving dish with a spoon and set aside.
Remove salmon from oven and serve with field greens, pecans and raspberry dressing.
Allergens
Allergens
Served with Raspberry Balsamic Greens by Healthful Pursuit's Leanne Vogel
Add to Favourites