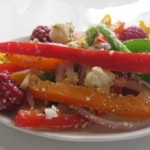 BC Raspberry Marinated Chicken in Summer Pepper Salad
Instructions
In a non-metallic bowl, combine pureed raspberries (reserving 1/2 cup) and 1/2 cup of oil.  Stir and add cubed chicken.  Cover and refrigerate for a minimum of 4 hours.
In a second bowl, mix bell peppers, green onion, hot banana peppers, chili flakes and 1 tbsp. of oil.  Season with salt and pepper and set aside.
In a large skillet, heat 1 tbsp. oil over medium heat.  Remove marinated chicken pieces from marinade and cook in  hot skillet for 5 - 7 minutes or until meat is white throughout.
In a small sauce pan, pour in marinade and cook over medium heat for 7 - 10 minutes or until has reduced in volume by half.
Place half of pepper mixture in centre of each plate.  Cover with cooked chicken and drizzle hot raspberry sauce on top.
Garnish with reserved raspberries
Enjoy this delicious dish with that someone special.
Note: Make ahead: Marinated chicken and bell pepper mixture can be prepared a day ahead, cover and refrigerated.
Allergens
Allergens
Serve with BBQ Chicken Breast or Salmon Fillet
Add to Favourites