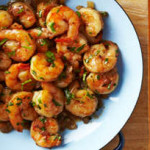 Sizzlin' Shrimp with BC Raspberry Salsa
Created especially for the RIDC by Gurth Pretty.
Instructions
In a non-metallic bowl, combine raspberries, red onion, jalapeno, garlic, cilantro, sugar, lime juice and zest.  Cover and refrigerate for 1 hour.
In a large sauce pan, cook vermicelli noodles in boiling water, following manufacturer's instructions.  Drain and toss with raspberry salsa mixture.
In a large skillet, heat oil over medium-high temperature.  Cook shrimp for 2-4 minutes or until pink throughout.
Divide noodles amongst four bowls.  Top with bean sprouts, peanuts, celery, snow peas and sizzling shrimp.
Note: Make ahead: Raspberry salsa can be prepared a day ahead, covered and refrigerated.
Note: Dish can either be served cold, hot or at room temperature.
Allergens
Add to Favourites