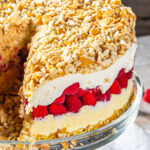 Layered Fresh BC Raspberry Icebox Pie
Instructions
Line the bottom of a 9-inch springform pan with parchment or wax paper. Crush the wafers and place half in the bottom of the pan. Save the rest for the topping.
Whip butter until creamy. Gradually add the icing sugar and then the eggs one at a time. Beat until fluffy. Spread mixture over the crushed wafers.
Whip the cream until soft peaks form. Cover filling with raspberries. Then cover with unsweetened whip cream and top with remaining crumbs. Chill overnight.
Before removing springform, slide a warm knife around the edge of the pan and the pie to loosen the edge from the side of the pan.
Allergens
Allergens
featured from RIDC Recipe Card
Add to Favourites