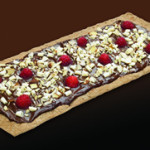 Raspberry-Chocolate Thin Crust Pizza
Courtesy of Flatout Flatbread
Instructions
Preheat oven to 350 F. Place the flatbread on a cookie sheet lined with parchment paper.
Bake the oven for 2 minutes.
Remove flatbread and spread chocolate sauce on the top.
Lay shavings, almonds and raspberries on top.
Return to oven and bake for 4 minutes.
Allergens
Decadent, light and refreshing dessert with fresh raspberries….
Add to Favourites