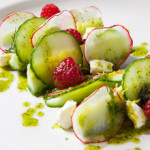 BC Raspberry & Cucumber Salad with Raspberry Vinegar
Light tasty salad for lunch or an accompaniment with dinner.
Instructions
Peel the cucumber and cut into thin slices, lengthwise.
Place in a colander and season with salt.
Toss with the raspberry vinegar and arrange thin cucumber ribbons in a serving dish.
scatter in fresh raspberries and season the salad with fresh pepper.
Decorate with dill and serve.
Add to Favourites