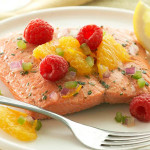 Citrus Salmon Fillets with BC Raspberry Salsa
Courtesy of Diabetic Living from Better Homes Test Kitchen
Instructions
Lightly coat an unheated slow cooker with cooking spray.  Pour the water into the slow cooker. Place orange slices in bottom of cooer, overlapping slightly if necessary.  Rinse salmon fillets and pat dry. Place salmon, skin side down, on top of orange slices; drizzle oil evenly over the fillets.  Sprinkle evenly with tarragon, sea salt and black pepper.
Cover and cook on low-heat setting for 2-1/2 to 3 hours or on high-heat setting for 1-1/2 hours or until salmon is opaque in center.
Using a flat spatula, carefully remove salmon and place on dinner plates. Discard oranges and cooking liquid in cooker.
Serve salmon with BC Raspberry Salsa and lemon wedges.
Allergens
Allergens
Add to Favourites