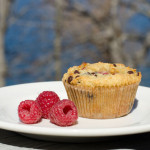 Raspberry Chocolate Chip Paleo Muffins
Instructions
Preheat oven to 325 degrees and grease or line muffin tins.
Combine dry ingredients and chocolate chips in a large bowl. Combine wet ingredients in medium bowl. Stir we ingredients into dry ingredients. Gently fold in raspberries.
Using a large ice cream or cookie scoop, fill muffin cups 3/4 full.
Bake for 25 minutes or until golden brown and toothpick inserted in center comes out clean.
Cool on wire rack.
Allergens
These muffins are wonderful warm right out of the oven.  I love how the melted chocolate chips contrast with the raspberries.  Courtesy of cook eat paleo
It is important to use fresh raspberries in this recipe – frozen raspberries will make the batter too wet.  I fold the fresh raspberries into the batter very lightly just before baking to keep them as whole as possible.
Add to Favourites