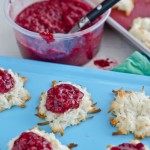 Yield: 10
Prep Time: 5 minutes
Cook Time: 20 minutes
Serving: 10 cookies
Print
Raspberry-Chia Seed Jam Coconut Thumbprint Macaroons
When looking for recipes to include on the site I wanted to make sure that we thought of Gluten Free for Raspberry lovers who are intolerant.  I included this one; really because they are my favorite cookie. This recipe is Paleo friendly.
from ohsheglows.com
Instructions
Preheat the oven to 275 degrees and line a baking tray with parchment paper or non stick mat; (if you have a non stick mat, use it because it will help prevent browning on the bottom.
In a large bowl, combine the coconut, almond flour (meal), and salt.
Melt the coconut butter over a very low heat. I suggest using a double boiler so it doesn't burn.
Add the maple syrup, softened coconut butter, and vanilla into the dry mixture and stir very well until combined. The dough will be very wet and sticky,  but this is normal.
 Grab a couple of tablespoons of dough at a time with your hands and drop it onto the baking sheet, with a wet finger, press a well into the middle and lightly shape the outsides if necessary.  Repeat for the rest.  Fill each well with jam.  The macaroons don't spread out so there's no need to space them far apart.
Bake at 275F for 20 minutes. Rotate the pan and bake for another 10-20 minutes (I bake for 40 mins. total - but you may need less depending on your oven) until the bottoms are light golden and browned, but not burned. If you have a hot oven, I suggest watching it closely or even reducing the heat to 250F. Place pan on a cooling rack for 5 - 10 minutes and then transfer each macaroon onto the cooling rack to completely cool. The macaroons will be very soft at first, but will firm as they cool. I enjoy them the most chilled, straight from the fridge.
Note: Recipe time does not include time to make the jam.
Jam:
Add raspberries and maple syrup into a medium pot and bring to a simmer. After 5 minutes or so, stir in the chia seeds. Continue to cook down the mixture for about 15 minutes, or until thickened.
Remove from heat and stir in vanilla.
Chill in the fridge for a couple hours to thicken it up even more.
Add to Favourites