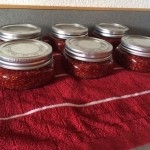 BC Light Raspberry Spread
Instructions
Place 6 250 ml jars in a boiling water canner, fill with water, cover and boil hard 10 minutes to sterilize jars. Boil SNAP lids 5 minutes - not longer - to soften sealing compound.
If sugar or sweetener will be added, measure and set aside ( 1- 3 cups). If using sweetener, dissolve in 1/4 cup of juice, reduce juice added to berries accordingly.
Combined crushed raspberries and juice in a large stainless steel saucepan. Gradually whisk in No Sugar Needed Fruit Pectin until dissolved. Bring mixture to a boil, stirring constantly.
Sweetener option instructions:

No Sugar Added: Boil fruit pectin mixture 1 minute, stirring constantly. Remove from heat, skim foam.

Reduced Sugar Added: Stir sugar into boiling fruit mixture. Return to boil. Boil hard 1 minutes, stirring constantly. Remove from heat. Skim foam.

Low Calorie Sweetener: Boil fruit mixture 1 minutes, stirring constantly. Remove from heat. Stir in sweetener-liquid mixture. Skim foam.

Ladle spread into a hot, sterilized jar to within 1/4 inch of top rim. Using a rubber spatula, remove air    bubbles. Wipe jar rim removing any stickiness. Center SNAP lid on jar; apply screw band just until     fingertip tight. Place jar in canner. Repeat for remaining spread.
Cover canner; return water to a boil. Process--boil filled jars - 5 minutes. Remove jars. Cool undisturbed for 24 hours. Check jar seals. Sealed lids curve downward. Remove screw bands; wipe and dry bands and jars. Replace loosely on jars. Label and store in a cool, dark place.
Add to Favourites