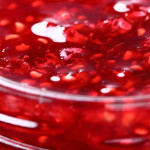 BC Raspberry Freezer Jam
Ingredients
Instructions
One half of the raspberry pulp may be sieved to remove seeds if desired.
Add sugar to crushed raspberries and mix thoroughly.
Let stand 10-15 minutes.
In small saucepan combine pectin crystals and water. Bring to a boil and cook and stir for 1 minute.
Combine with fruit mixture and stir a least three minutes.
Ladle into containers and cover tightly with lids.
Let stand at room temperature 24 hours.
Store in freezer.
Add to Favourites