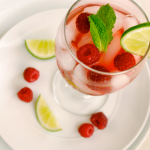 Raspberry Mojito Non-Alcoholic
Try this delicious non alcoholic Raspberry Mojito which combines fresh raspberries, juicy lime and crisp mint for a refreshing drink on a warm summer evening.
Instructions
Simple Syrup
Combine 1 cup granulated sugar with 1 cup water (or just equal parts, if making more or less) in a medium sauce pan. Heat over medium-low heat, stirring frequently, until is begins to boil and sugar is completely dissolved. Allow to cool.
Mojito
In a tall glass, add raspberries, mint leaves and the simple syrup.
Muddle (squish with the back of a wooden spoon) well until the mint, simple syrup and raspberries are well combined. If possible, try not to break apart the mint leaves.
Fill glass with ice.
Add cran-raspberry juice, then lime juice and then fill with soda or sparkling mineral water.
Garnish with lime wedge or additional raspberries, if desired.
Courtesy of Lacey Baier of A Sweet Pea Chef
Add to Favourites